On October 8, 2019, a group of KKUIC students visit the internet television studio situated in Sirikunagorn Building
A group of communication arts student led by Ajan Suthai Katima, a chairperson of communication arts curriculum, visited KKU Internet television. The team was introduced with medium and technology for online news and television by the escort of hosts from the department of public communication including; Miss Ponthip Khamdee, a head of public communication office, Miss Benjamapon Mamook, a public relation officer, Mr. Nataphong Chamnan-ua, an audio-lab assistant, and Mr. Chaichan Larda, an academic officer. The visit was held as a part of the activities included in the courses; 055230: Radio Journalism and Broadcasting, and 055121: Multimedia Communication.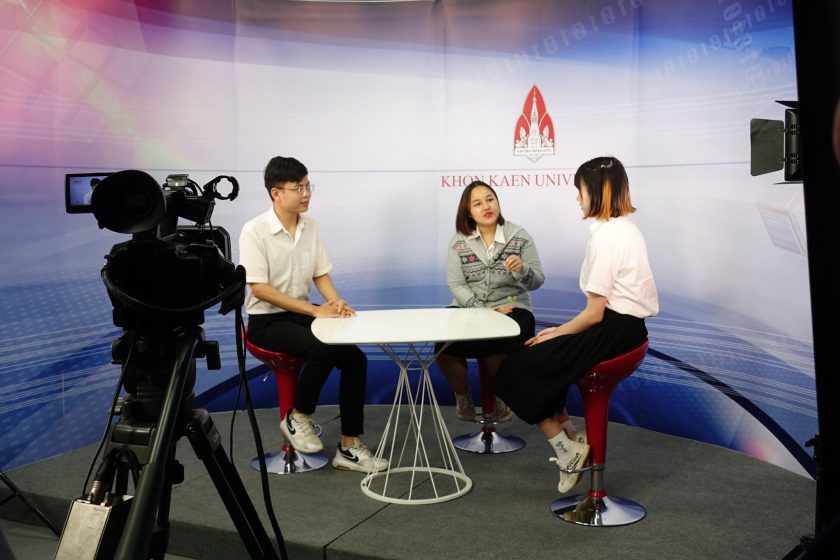 Ajan Suthai said that the purpose of the visit was to enable the communication arts students to learn from the technology exploited at the KKU's internet television studio. The students were expected to experience real practices of different roles such as new producer and photographer. It is quite challenging for the students because working on these areas of communication arts requires a lot of skills and practice. Knowing about this existing challenge should help prepare the students for their future careers.
"The strength of the communication arts students from KKUIC is their English language and technological skills. These qualifications should put them in a right position for the future careers." Said, Ajan Suthai.
Mr. Natchapol Uthasri, a second-year communication arts student, said he had learnt a great deal about how to be MC, and other MC related techniques such as how to project body posture in front of a camera, how to moderate a program, and how to operate the camera for internet television. This kind of learning was believed to be beneficial for the future career.