Cholangiocarcinoma Research Institute signs MOU with Biochemistry Department of Faculty of Medicine to set up KKU International Phenome Center that will serve industries in the bio-economics era
          Friday June 21, 2019, 9:00 a.m. at Room 5102, Wechawichakan Building of Faculty of Medicine, Khon Kaen University – Cholangiocarcinoma Research Institute (CARI) signed an MOU with Department of Biochemistry, Faculty of Medicine to set up the KKU International Phenome Center (KKUIPC). This center will provide services to agricultural, foods, medicine industries. Assoc. Prof. Dr. Narong Khanteekaew MD, Director of Cholangiocarcinoma Research Institute and Assoc. Prof. Dr. Nissana Namwat, Head of Department of Biochemistry, Faculty of Medicine signed the MOU in front of witnesses.
          One vision of Khon Kaen University is social dedication, and thus many projects are aimed to assist communities in the Northeast and to solve different problems the region is facing. Cholangiocarconoma Project emphasizes campaigns to promote prevention of the disease. There is a screening activity carried out so that people with the possibility to develop the disease will receive treatment at an early stage. Palliative care is also provided to patients at the terminal stage. Studies have been conducted on the process of disease development, prevention and treatment. All of these require modern and advanced technologies at the molecular level. Phenomics is a study of the changes of genes, protein, metabolite that respond to the control or gene changing as well as external stimulants such as the lifestyle, environment of each living thing including human, and different intakes of foods and medicine. Khon Kaen university will therefore apply the phenomics and phenomics technologies to carry out research and development, which will not be useful for only the medical circle, but also for agriculture, nutrition, food and medicine. The outcome will benefit people in Isan region and other regions who will have better qualities of life.  
          KKU International Phenome Center (KKUIPC) will be another important mechanism for the development and growth of phenomics research which will be done by lecturers, researchers and students of Khon Kaen University and other universities in Thailand. The center will support Khon Kaen University's strategy and will benefit researchers, the work of the governmental sector, businesses in the Southeast Asia.         
        Assoc. Prof. Dr. Nissana Namwat, Head of Department of Biochemistry said, "Department of Biochemistry has potentialities in many aspects, including visions, directions, and operations of administrators that are up-to-date. Professors have expertise in advanced technologies while students and researchers have capabilities to produce quality research work. During April this year, the institute and the department held a short-course training in clinical metabilomics and natural products to prepare for the phenomes education of lecturers, researchers, and students. The course was attended by many participants. So in order to expand research in phenomes, KKU International Phenome Centre (KKUIPC) is established to take major roles in providing services in testing genes, protein pattern and metabolites for entrepreneurs in official and private sectors, who are in agricultural industrial and food and medical industrial sectors, in order to prepare for the Bio-economics age. There will be services in Personalized and Precision Medicine and training in phenomes for researchers within and outside Khon Kaen University, which will lead to an international level. Services will also be provided in research, analytical work especially contaminants and toxic substances, natural extracts, or analysis or checking of components in fruits, vegetables and foods along with diagnoses of diseases for patients with different diseases."
          Assoc. Prof. Dr. Narong Khanteekaew MD, Director of Cholangiocarcinoma Research Institute said, "Our past research and development realized the term "Genomics", which means a study of all genetics information necessary for normal growth and life of living things. With development in sciences and technologies, there are modern and more advanced tools such as Nuclear Magnetic Resonance, NMR Spectroscopy, Liquid Chromatography Mass Spectrometer, LC-MS, or  advanced chemical analysis called Chemometrics that enable us to study "phenomes" better. "Phenomics" is the study of interactions between genes and the environment that is composed of foods, medicine, lifestyles and diseases. It will help us understand how much the environment affects an individual risk of developing a disease. It is a science that helps us know the disease development process of each person and suitable treatment and specific to that individual more precisely. Even though two people have the same disease, their different genes make them react to the disease differently. Therefore, Personalized Medicine is necessary for utmost efficiency in treatment. KKU International Phenome Centre (KKUIPC) is a new center that will promote education and training in modern medicine in the country and also at an international level. It will promote the use of technology for maximum benefit and enables diagnose the level of genes or protein or minute matters that affect daily life."
          KKU International Phenome Centre (KKUIPC) is ready to provide services in testing the reaction of genes, protein patterns and metabolite. It will offer full-cycle services in this regard for the governmental and private sectors that operate under the Northeast Science Park, the outcomes of which will be extended in the industries related to farming, foods, and medicine and lead in the future to Bio-economics and in turn assist Thailand to come out of the middle-income trap in the near future.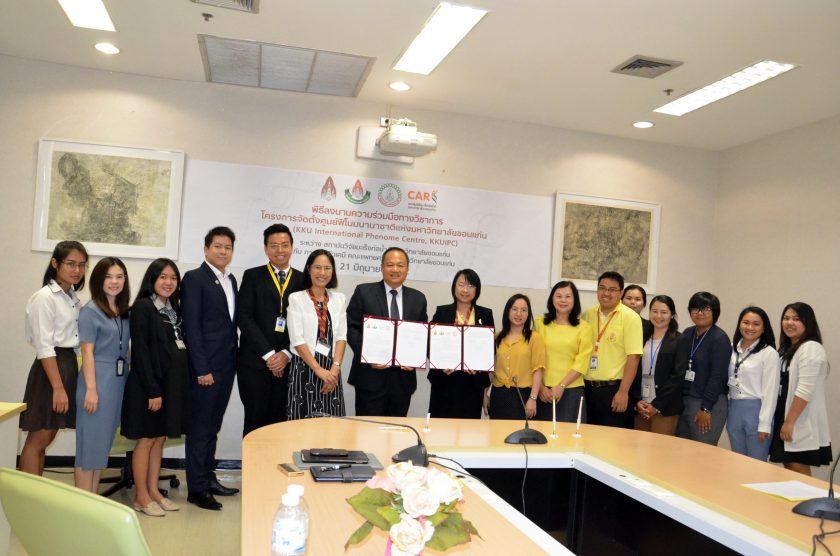 News / photos: Wadchara Noichompoo