To implement the policy of health promotion for workers, everyone is invited to join walking-running activity starting from June 25 to record the distance and get prizes based on age and organization
Human Resource Division, Khon Kaen University, organizes "KKU Healthy Life," walking-running activity for health of KKU staff. Participants can register online on June 25, 2019 and collect total walking-running distance within 2 months.
Assoc. Prof. Dr. Ratchaphon Suntivarakorn, Acting Vice President for Human Resources, revealed that at this time KKU had 11,551 staff members who were working at different offices. If they do more exercise, especially running that was convenient, good for health, and able to reduce stress, they would feel fresh. KKU wanted to see its workers healthy, strong, and ready to work for people as well as develop their organization. This health promotion activity was aimed to promote health including collaboration, and encourage them to spend time efficiently.
All KKU staff is invited to join "KKU Healthy Life," walking-running activity conducted in the form of virtual run that participants can run anywhere including on a treadmill and record time on their smart watch or applications like Endomondo, Nike+ Running, Runtastic GPS Running, Jogging & Fitness Tracker, Strava Running and Cycling – GPS Run and Ride Tracker.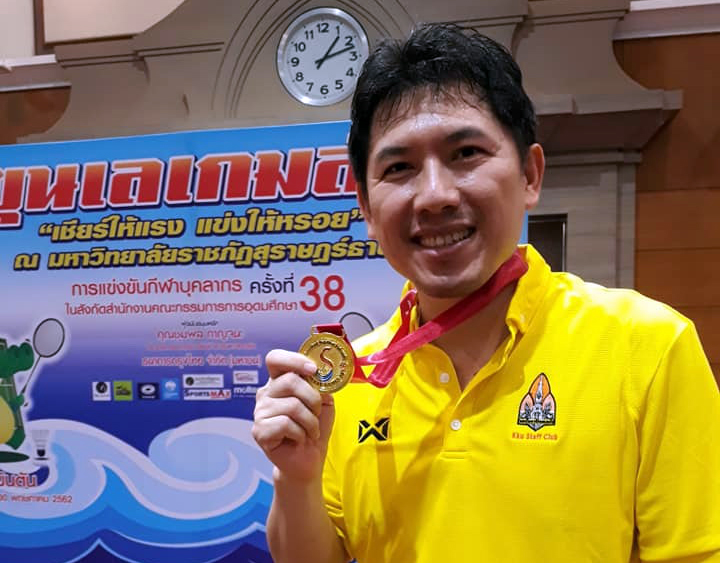 The target distance is 100 km or more. The race starts from July 1-August 31, 2019 (2 months), so runners need to submit all the recorded time only one time by August 31, 2019 by capturing their phone screen and send to inbox of the Facebook page entitled "KKU Healthy Life."
KKU also provides prizes for the first 500 finishers, both individual and organizational, who can reach 100 km from July 1-August 31, 2019. That means a runner who finishes 100 km. needs to submit the record at once to get the prize for the first 500 finishers. Moreover, top 3 male and female runners at different years of age who reach the longest distance will receive prizes and souvenirs. Both male and female runners will be divided into groups: 31-44 years of age, 45-55 years of age, and 56 years of age and over. Prizes for runners registering on behalf of organizations will be given to organization with the longest average distance calculated from all of its staff's record.
The opening ceremony is on June 25, 2019 at 9 a.m. at Sarasin Meeting Room of Sirikunakorn Building, and Assoc. Prof. Charnchai Panthongviriyakul (MD), President of Khon Kaen University, is going to preside over. There is also special talk on running for health and statistic recording techniques by Asst. Prof. Donchai Srisumran, a lecturer and sports specialist from the Demonstration School of Khon Kaen University (Mordindang), and Mr. Sittichai Yindeechart from KKU Sports Office. From each organization, the first 10 staff who register at the event on the day of opening ceremony will receive special souvenir which is "KKU Healthy Life" T-shirt.
Registration period is from June 25-30, 2019. Interested people can register online on Facebook page named "KKU Healthy Life." For more information, please contact Human Resource Division or KKU Sports Office.
News: Udomchai Supanavong